Associate Provost for Academic Affairs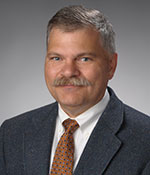 As associate provost for academic affairs, Chris Johnson partners with other academic affairs leaders to support key academic initiatives and advance Syracuse University's vision and mission as outlined in the Academic Strategic Plan. A professor in the Department of Civil and Environmental Engineering, he also served as interim director of the Renee Crown University Honors Program from July 2016 to June 2018.
Johnson began his career at Syracuse in 1989 as a postdoctoral research associate and joined the civil and environmental engineering faculty the following year. He chaired the department from 2010 to 2014 after serving one year as interim chair. Johnson teaches courses in environmental chemistry, soil chemistry, data analysis and surveying. In the Honors Program, he teaches "Water for Gotham," a course on the New York City water supply system, and "The Aqueducts of Ancient Rome."
Johnson has served as a visiting faculty member at Charles University in Prague and Griffith University in Brisbane, Australia. He is involved in a number of research projects in the broad area of environmental chemistry, including work on the fate of trace metals in forest soils and landscapes, the effects of clear-cut logging on soils and drainage waters, and the changing acid-base chemistry of soils historically affected by acid rain.
Johnson earned a B.S. in civil engineering, a M.S. in statistics, and a Ph.D. in geology, all from the University of Pennsylvania. He is a member of Phi Beta Kappa and Tau Beta Pi, and he was a Fulbright Scholar in the Czech Republic in 1994. He can be reached at cejohns@syr.edu or 315.443.1899.