Associate Provost for Strategic Initiatives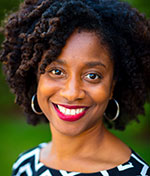 Marcelle Haddix serves as associate provost for strategic initiatives. In this capacity, she partners with Vice Chancellor, Provost and Chief Academic Officer Gretchen Ritter and others to connect Academic Affairs with the campus and surrounding community. She is the primary liaison to the University Senate and oversees the First Year Seminar and University-wide arts and humanities affiliates and programs.
Haddix is a Dean's Professor of Literacy, Race and Justice. Her scholarly interests focus on the experiences of students of color in literacy and English teaching and teacher education and the importance of centering Blackness in educational practices and spaces.
She was an inaugural co-director of the Lender Center for Social Justice and facilitates literacy programs for adolescent and adult communities in Syracuse, including the Writing Our Lives project for urban youth writers, for which she was recognized with the 2020 Orange Circle Award. She can be reached at mhaddix@syr.edu or 315.443.0768.