Interim Vice President for Research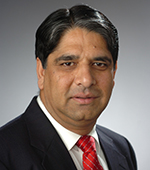 Ramesh Raina was appointed interim vice president for research, effective January 7, 2020. He is a professor of biology. Before his appointment, Raina served as Chair of Biology for more than eight years, starting July 1, 2011. He has also been a core faculty member of the Renée Crown University Honors Program since 2009.
Raina has extensively published in top tier international peer-reviewed journals in the area of plant-pathogen interactions, plant molecular biology and epigenetics. Over the years, he has received more than $9 million in research grants as principle investigator or co-principle investigator from federal agencies such as NSF, NIH, DARPA, EPA, and from the industry. Raina has served as panel member and reviewer for several federal, state and international funding agencies and private foundations including NSF, NIH, USDA, California Department of Food and Agriculture, Kentucky Science and Engineering Foundation, French Ministry of Research for Plant Genome Research-Trilateral proposals (France-Germany-Spain), Dutch Research Council, Netherlands Organization for Scientific Research and Beckman Foundation. He regularly serves as reviewer for several international scientific journals.
Raina has mentored many Honors undergraduate students, graduate students and postdoctoral associates. He is past recipient of William Wasserstrom Prize for Graduate Teaching (2016).
Raina has served in several university-wide leadership roles including, member of the Faculty Council of College of Arts and Sciences (2013-17, Council Chair 2013-14); University Senator (2013-present, Agenda Committee Chair 2017-19) and many others. He can be reached at raraina@syr.edu or 315.443.2492.