Assistant Provost and Executive Director of Syracuse Abroad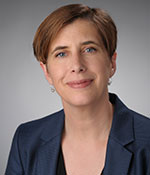 Erika Wilkens is assistant provost and executive director of Syracuse Abroad program, overseeing all aspects of the day-to-day operations of Syracuse Abroad, including academic programming, personnel, compliance, budget and real estate. Wilkens plays a key role in developing a long-term strategic plan and advancing the University's vision and commitment to internationalization. Working with faculty, administrators, and other stakeholders and partners on campus and abroad, Wilkens will work to further expand opportunities for students to pursue global study, research, and internships.
In 2010, Wilkens was appointed the founding director of the University's new study abroad center in Istanbul. Upon her return from Turkey, she became special assistant to the associate provost for international education and engagement and then, special assistant for global engagement.
Prior to joining Syracuse University, Wilkens served as an assistant professor at Okan University in Istanbul and as an instructor at Sabanci University, Istanbul, and New School University's Graduate Program in International Affairs in New York City.
Wilkens earned a Ph.D. in political science from Syracuse University; a master's degree in international development from University of Calgary, Canada; a master's degree in international relations from Lancaster University, United Kingdom; and a bachelor of commerce degree from University of Calgary. She can be reached at ewilkens@syr.edu or 315.443.9423.