Vice President for Enrollment Services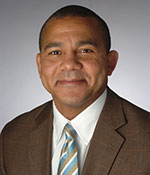 As the University's vice president for enrollment services, Ryan Williams oversees the Office of Admissions, the Office of Financial Aid and Scholarship Programs, the Enrollment Processing Center, the Office of Institutional Research and the Student Employment Office.
Prior to being named vice president in 2018, Williams held several positions at the University beginning in March of 2012, including Senior Associate Vice President, Interim Senior Associate Vice President and Associate Vice President.
Before coming to Syracuse, Williams had most recently served as Vice President for Enrollment Programs and Services at the College Board in Reston, VA. For a period, he was also the Acting Senior Vice President, reporting directly to the Chief Operating Officer. Before joining the College Board in 2007, he was the Director of University Financial Services at Harvard University, in Cambridge, MA. He can be reached at cwill05@syr.edu or or 315.443.1039.