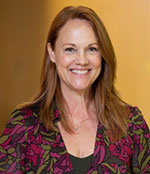 Julia Cartwright is chief of staff to the vice chancellor, provost and chief academic officer, Gretchen Ritter. Cartwright works as a primary liaison to the provost with internal and external University and community constituencies, serves as a member of the provost's leadership team and drives initiatives in support of the provost and Office of Academic Affairs.
Previously, Cartwright served as chief of staff to the dean and senior associate dean of communications, promotion, and public affairs at New York University's (NYU) School of Global Public Health. She has had a career-long focus on social norm change communications.
Before joining NYU, Cartwright led award-winning communications initiatives at the American Legacy Foundation (now Truth Initiative). There, she worked for over a decade on a wide range of tobacco control initiatives, including the truth campaign and stakeholder engagement and support for the U.S. Center for Disease Control and Prevention's highly effective campaign, "Tips from Former Smokers."
In advance of her tenure at Legacy, Cartwright devoted 18 years to the nonprofit National Center for Missing and Exploited Children. As a member of the original team that helped launch the center in 1984, Cartwright led its communications efforts, including national public awareness partnerships from the iconic Milk Carton campaign to broadening the national reach of the AMBER Alert (America's Missing: Broadcast Emergency Response).
Cartwright is a graduate of Randolph-Macon Woman's College and earned her master's degree in corporate communications from Georgetown University. She holds a certificate from Harvard University's Global Change Agents Executive Program.